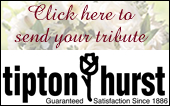 Read our Privacy Policy concerning online obituaries and release of information.
Margaret Allen Sparks
---
Margaret Allen Sparks, age 93, died on April 25, 2011, following complications from a stroke earlier this year. Margaret, a 75 year resident of Albuquerque, New Mexico moved to Little Rock in 1992 to be close to her daughter's family. She was predeceased by her husband, Thomas O. Sparks Jr.; her parents, W. Roy and Grace Allen; one brother, William Allen; and a sister, Mildred Moore.

Margaret is survived by her son, Thomas Overton Sparks III and wife, Anne, of Concord, CA; daughter, Betty Gene Mann and husband, Richard, of Little Rock, AR.; five grandchildren; and 11 great grandchildren; one sister, Betty Davis of Milpitas, CA; and one brother, Rev. Walter Allen of Ft. Worth, TX.

Appreciation goes to her many close friends at Good Shepherds ERC (The Cove), especially Beverly and Jimmy Williams, First Christian Church (Disciples of Christ), the Bethany Sunday School class and her CWF Circle, her faithful niece Ann Filiatreau, the amazing and caring staff of Hospice Home Care Inpatient Center and Dr. K Morgan Sauer.

A memorial service celebrating her life will be held at Ruebel Funeral Home, 6313 West Markham on Wednesday, April 27, 2011 at 3:00 p.m. with Rev. Kevin Robbins officiating. In lieu of flowers memorials may be made in Margaret's honor to First Christian Church 1500 No. Mississippi, LR, AR 72207 or Hospice Home Care 2200 South Bowman Rd. LR, AR 72211. www.ruebelfuneralhome.com.

Condolence Book
---
"Mrs. Betty Gene Mann,

Please accept my deepest sympathy regarding the passing of your mother, Mrs. Sparks. The obituariy was just lovely. We have remembered both your mother, and your family in our prayers for some time. May the Lord grant you and yours peace during this trying time.

In Christ,
GSERC Employee"
Darlene McMoran | Little Rock, AR | mcmorand@goodshepherdcommunity.com
Sign Condolence Book
---
Please fill out the form below to enter your name and a short message to the family into the online condolence book. Please type in regular sentence format; do not type in all capital letters; only type your condolence or comments in the "comments" field – your signature will be formatted from the "Name," "City & State," and "E-mail" fields. Please remember that you are leaving comments for a public guestbook and not sending personal email to family members. Do not type in email or letter format. Phone numbers and Addresses (other than email) will not be posted.
* denotes required fields.