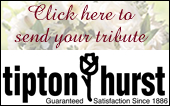 Read our Privacy Policy concerning online obituaries and release of information.
Harry Turner Gilbert, Jr.
---
Harry Turner Gilbert, JR., 100, died on Saturday, June 9, 2012, in Little Rock. He was born in Chicago on February 27, 1912, to the late Harry Turner and Beulah Ugland Gilbert. He grew up primarily in New Orleans and Grand Beach, Michigan, eventually settling in Potomac, Maryland, for much of his later life until moving to Little Rock in 2002. He was the widower of Dorothea Lawrence (2005), with whom he had one daughter, and Gilberte Frey (1948).

Harry was a graduate of the Hill School in Pottstown, Pennsylvania, and Princeton University ('35). He joined his father at Illinois Steel Corporation in Gary, Indiana, and Chicago until enlisting in the Army in 1941. He served in Field Artillery and Headquarters Third Army under General George Patton, landing on Omaha Beach on D-Day +18. He fought in the Battle of the Bulge, and was awarded the Legion of Merit and Bronze Star medals before retiring from active duty as a Lieutenant Colonel.

Once back in the private sector, Harry founded an oil company in Santa Fe, then worked at Los Alamos Lab before moving to the Washington, D.C. area to begin his career with CIA in 1949. Foreign assignments took him to Cyprus during the Suez Crisis and Germany during the Cold War prior to retiring in 1969. He then volunteered for Common Cause and Recording for the Blind, and worked three more years in administration for Landon School in Bethesda, Maryland.

He played competitive tennis, duplicate bridge, and platform paddle tennis -- winning the National 70's Men's Doubles Platform Tennis Championship at age 70. Harry also loved fly fishing, skiing, and chronicling his family life in photography. He and Thea shared passions for painting, cultivating their abundant gardens, and raising their beloved Bouvier dogs for over 30 years before moving to Bethesda, and ultimately Little Rock.

Harry is survived by his daughter, Dr. Amy Gilbert Pollard (Hugh) of Little Rock, and was predeceased by his parents; sister, Lois Gilbert Campbell; and nephew, Frank Edward Healy, Jr. Deep appreciation goes to his physicians and devoted caregivers, who contributed greatly to his long full life.

There will be a visitation on Monday, June 11, 2012, from 5 to 7 p.m. at Ruebel Funeral Home, 6313 W. Markham St., Little Rock, (501)666-0123. Memorials may be made to the Arkansas Arts Center - Dorothea Lawrence Gilbert Fund for Art Enrichment and Outreach, the American Heart Association, or Alzheimer's Arkansas. Arrangements by Ruebel Funeral Home. www.ruebelfuneralhome.com.

Condolence Book
---
"I am sending my heartfelt condolences. It doesn't matter at what age you lose a parent, it is still such a painful loss. Anne Miller
"
Anne Miller | Little Rock, AR
"Amy, so sorry to hear about your Dad. He evidently led a long and full life, but I know it is always hard to give them up. Marilynn and I are thinking about you at this time.

Marvin"
Marvin Loyd | Lake Village, AR
"What a remarkable man! I'm so sorry not to be with you today but thinking of you so much! Lots of love, Nancy"
Nancy Rosenthal | New York, NY
"Amy, hope you got our earlier e-mail, but just to reiterate, your father had a wonderful and remarkable life! Most people never get to experience a fraction of the things he went through. We are sorry that we never had the opportunity to meet him, but he obviously was quite a guy!

His life should be celebrated!

We love you!

Gene & Kay"
Gene and Kay Hoggard | Plano, TX
"I knew Harry when he lived in southern Michigan. We use to play tennis together back in the 1930's. I later knew him in Santa Fe NM after the war. My late wife Barbara, who's parents lived in Santa Fe, was a friend of Frey. "
John B. Tuthill | Dallas, TX
"To the uncle I never knew - named after my Aunt Gilberte (my father's older sister), I often heard wonderful things about her husband, Harry, and how odd it was that she had married someone with the last name "Gilbert" (I believe this was a warning that I should avoid the same). I wish I had known him - he sounds wonderful!"
Gilberte (Jill) Frey Duerig | Fremont, CA
Sign Condolence Book
---
Please fill out the form below to enter your name and a short message to the family into the online condolence book. Please type in regular sentence format; do not type in all capital letters; only type your condolence or comments in the Comments field. Your signature will be formatted from the Name,City & State, and E-mail fields. Please remember that you are leaving comments for a public guestbook and not sending personal email to family members. Do not type in email or letter format. Phone numbers and Addresses (other than email) will not be posted.
* denotes required fields.