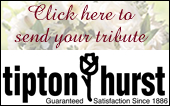 Read our Privacy Policy concerning online obituaries and release of information.
Dorothy Price Sitton
---
Dorothy Price Sitton, age 89, of Little Rock joined the Church Triumphant Tuesday, August 14, 2012. She was born the 19th of November, 1922 at Cornerville, (Lincoln Co.), AR to the late Sarah Smith Price and Theodore Clayton Price. She was reared in the farming community of Tamo (Jefferson Co.), AR. She graduated from Linwood High School where she was a 4-H Club member and later taught primary grades.

Dorothy attended AR A&M College, Monticello. She received a Bachelor's of Science Degree in Home Economics from the University of AR, Fayetteville and a Master's Degree in Education from Cornell University, Ithaca, NY. She was employed with the University of AR, Cooperative Extension Service for 33 years until retirement in 1979.

She was a member of Second Presbyterian Church, NARFE Chapter #93, Little Rock Departmental Club and a charter member of LifeQuest of Arkansas where she served as director of Adventures in Learning. As a retired educator and volunteer, she encouraged others to learn and serve.

Dorothy was generous in love and support of family and friends. Her well appointed home reflected a passion for interior design and seasonal objects of arts and crafts. She enjoyed the lure of the open road on car trips with retired friends.

She was preceded in death by her husband, E. Richard (Dick) Sitton and her brother, Smith Martin Price. She is survived by her sister-in-law, Anne R. Price, Lonoke; niece, Jan L. Price, Maumelle; nephew, Gregory M. Price and wife, Nikki and their children, Geoff and Sara, Chicago, IL; step-daughter, Jolene S Klingaman and husband, Gerald, Fayetteville and step-granddaughter, Angie J. Sikes, Fayetteville.

A Service of Resurrection in Celebration of Dorothy's life will be held at Second Presbyterian Church at 3:30 p.m. on Friday, August 17, 2012 with Dr. Karen K. Akin officiating. The Family Committal Service at Pinecrest Memorial Park is to precede this service at the church.

Memorials may be made to Second Presbyterian Church, 600 Pleasant Valley Dr., Little Rock, 72227 or to LifeQuest of Arkansas, P.O. Box 25523 Little Rock, AR 72221. Arrangements under the direction of Ruebel Funeral Home, www.ruebelfunberalhome.com.

Condolence Book
---
"My condolences to Dorothy's family. My grandmother, Buelah Harper Thomasson, was Dorothy's first cousin and my Daddy named me for Uncle Clayton Price. Dorothy and Aunt Sallie were both very kind to my mother. "
Ben Clayton Thomasson | Little Rock/Rison, AR | bthomas600@aol.com
"Jan, Anne, Greg and Family:
My thoughts and prayers are with all of you during this time.
Dot was a true Southern Lady in every sense of the word. I know you will miss her terribly."
Sharon Rudder | Lonoke, AR | brodysmammy@att.net
"I am so blessed to have had a friend as dear as dorothy sitton . There is a vast void in my life as I am sure there is in many other lives . I will truely miss our visits and her tender reassuring voice ."
doyan brown | perry ,arkansas | rolliepatch@yahoo.com
Sign Condolence Book
---
Please fill out the form below to enter your name and a short message to the family into the online condolence book. Please type in regular sentence format; do not type in all capital letters; only type your condolence or comments in the "comments" field – your signature will be formatted from the "Name," "City & State," and "E-mail" fields. Please remember that you are leaving comments for a public guestbook and not sending personal email to family members. Do not type in email or letter format. Phone numbers and Addresses (other than email) will not be posted.
* denotes required fields.