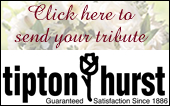 Read our Privacy Policy concerning online obituaries and release of information.
Pamela Elkins Ball
---
Pamela Elkins Ball, age 55, passed away Saturday, January 19, 2013. She was born January 31, 1957 in Little Rock, AR to the late William Ernest Richardson and Gail Wall Richardson. She was preceded in death by a nephew, John Wall Richardson.

She is survived by her children, Abi and Will Ball; step-daughter, Nikki Wilkins; brother, William Richardson; sisters, Gaye Richardson and Abigail Fuquay; her companion, Jesse Cantu; the father of her children, Duke Ball; nieces, Brittany Richardson Watson and Emily Fuquay; nephews, Harry Richardson and James Fuquay and her aunt, Peggy Hayes.

A memorial service will be held at Ruebel Funeral Home, 6313 W. Markham St., Little Rock on Tuesday, January 22, 2013 at 1p.m. officiated by Rev. Brittany Richardson Watson. Online guest book: www.ruebelfuneralhome.com.

Condolence Book
---
"I was stunned when I read the paper this morning. Breaks my heart.
Have been sick this past 10 days. Not sure what tomorrow will bring but will be there if I can.
My love to all of you and to my sweet Gail already in heaven waiting to greet Pam with opened arms.
Julie"
Julie Truemper | Little Rock, AR | jjtruemper@yahoo.com
"My deepest sympathy to Abi and all of Pam's family. I was in shock to learn of this. May God give you all comfort and peace. Must love to all. Sherry Brown Reznick"
Sherry Brown Reznick | Little Rock, AR | smreznick@comcast.net
Sign Condolence Book
---
Please fill out the form below to enter your name and a short message to the family into the online condolence book. Please type in regular sentence format; do not type in all capital letters; only type your condolence or comments in the "comments" field – your signature will be formatted from the "Name," "City & State," and "E-mail" fields. Please remember that you are leaving comments for a public guestbook and not sending personal email to family members. Do not type in email or letter format. Phone numbers and Addresses (other than email) will not be posted.
* denotes required fields.