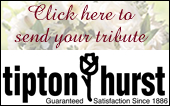 Read our Privacy Policy concerning online obituaries and release of information.
Janet Overton Grice
---
Janet Overton Grice, 77, of Little Rock, passed away Tuesday, February 11, 2014. She was born Monday, April 20, 1936 in Stuttgart, Arkansas to the late Clyde and Gladys Grice.

Janet is survived by her daughter, Vickie Scallorns, one sister, Gail Fox and two grandchildren, Michael Scallorns and Melody Scallorns. She is also survived by her close friend and caretaker, Debbie Gooding. Janet was preceded in death by her husband, Donald E. Grice and one brother, Ted Overton.

Janet worked for the Pulaski County Special District as a teacher for 46 years. She enjoyed animals and loved her dogs and horses Janet will always be remembered for a big heart of love and warmth she had for kids helping others and especially animals.

A memorial service to celebrate the life of Janet will be held on Sunday, April 13, 2014 at 2:00 p.m. on her section of Heaven on Earth located at 5319 Jones Loop Rd, Little Rock AR 72223.

Her family and friends would like to thank Dr. Delbra Carradine and her staff and Baptist Home Health for the loving care they gave Janet. In lieu of flowers memorials may be made to Christ House of Prayer, 10015 Eva Lane, Little Rock, AR 72209. www.ruebelfuneralhome.com.


Condolence Book
---
"Janet was a classmate of mine - DeWitt 1954.
My thoughts and prayers are with the family. "
Jackie Dillion | Conway, AR | cdillion@conwaycorp.net
Sign Condolence Book
---
Please fill out the form below to enter your name and a short message to the family into the online condolence book. Please type in regular sentence format; do not type in all capital letters; only type your condolence or comments in the "comments" field – your signature will be formatted from the "Name," "City & State," and "E-mail" fields. Please remember that you are leaving comments for a public guestbook and not sending personal email to family members. Do not type in email or letter format. Phone numbers and Addresses (other than email) will not be posted.
* denotes required fields.