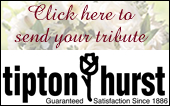 Read our Privacy Policy concerning online obituaries and release of information.
Minnie Ruth Eisenkramer Hirsch
---
Minnie Ruth Hirsch (nee Eisenkramer), age 88, was born May 16, 1918, the last of 6 children (Martha, Ninon, David, Hubert, Jack), and died on April 11, 2007. She was a devoted daughter, wife, mother, and grandmother.

During her early years and until her marriage to Max A. Hirsch (deceased) of Marvell, AR, she was a buyer and seller of women's apparel at Eisenkramer's department store in Pine Bluff.

Her early accomplishments included winning a state typing championship in 1935 for typing 83 wpm, playing piano and organ at Temple Anshe Emeth in Pine Bluff, AR, and being an active member of the Business and Professional Women's organization.

After her husband died in 1979, she continued managing their farm and her investments, living independently in the country until her illness. She became ill on January 26, 2007, while traveling to Chicago to attend a memorial service for her daughter, Maxine Hirsch Meyers, who died on November 12, 2006, after battling breast cancer for 18 years.

Minnie Ruth was known for her astute accounting and stock market skills and her acerbic wit. She enjoyed being a Marvell girl's softball team organizer, the manager of its concession stand, a Brownie Scout leader for her daughters, and a rhythm band leader at her daughters' school. People approached Minnie Ruth to serve as pianist, to join them in bridge or Mahjong, and to get knitting advice. For years she played piano for Temple Beth El in Helena where she was a member. She joined Temple B'nai Israel in Little Rock in 2006, after Temple Beth El was deconsecrated.

Her favorite saying was, "I do just like AETN says to do, 'Be Curious.", She will be remembered as a gentle mother and grandmother who gave only unconditional love, a person who found great joy in giving to others and yet one who found an endearing way to 'tell it like it is.'

Survivors include her daughter Martha Lou Alman (Charles) and granddaughters Laney and Susan Alman (Little Rock); grandson Max Meyers (Chicago); son-in-law Dennis Meyers (Chicago); sister-in-law Rosalie Eisenkramer (Hot Springs); nephews and nieces Bill (Kathryn) Eisenkramer (Hot Springs), David (Suzanne) Franklin (Memphis, TN) and Sylvia (Larry) Fox (Tucson, AZ).

The family wishes to thank Dr. Robert Safirstein for his unwavering help during Minnie Ruth's illness. His gentle and highly professional manner gave the family direction during this time. The family also wishes to extend heartfelt gratitude to each and every compassionate soul from Arkansas Hospice for their ability to not only care for the patient, but also for the patient's friends and family.

Funeral services will be held on Friday, April 13, 2007 at 9:30 a.m. at Temple B'nai Israel in Little Rock followed by graveside services at 2:00 p.m. at Beth El Cemetery in Helena.



Condolence Book
---
"Martha Lou, So sorry to hear of your Mothers death. I have thought about you frequently over the years. I want you to know my thoughts and prayers are with you and your family during this time."
Carla Hardy | Oakland, TN | carla_hardy@hotmail.com
Sign Condolence Book
---
Please fill out the form below to enter your name and a short message to the family into the online condolence book. Please type in regular sentence format; do not type in all capital letters; only type your condolence or comments in the "comments" field – your signature will be formatted from the "Name," "City & State," and "E-mail" fields. Please remember that you are leaving comments for a public guestbook and not sending personal email to family members. Do not type in email or letter format. Phone numbers and Addresses (other than email) will not be posted.
* denotes required fields.