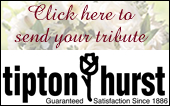 Read our Privacy Policy concerning online obituaries and release of information.
Dr. Robert "Bob" William West
---
Dr. Robert William West, aged 61, passed away Monday, June 11, 2007, at Papworth Hospital in Cambridgeshire, England, with his family at his side. After being hospitalized due to a fall in which he broke a hip and arm, Dr. West developed pneumonia. The two-month battle with the illness resulted in his death.

Dr. West, known as Bob to friends and colleagues, was born on December 18, 1945, in Little Rock, Arkansas. He retired after 23 years at the National Center for Toxicological Research, where he studied the causes of cancer. He was a 1963 graduate of Catholic High, after which he graduated from Tulane University, earned his Master's Degree at Vanderbilt University, and received his Ph.D. in biochemistry at the University of Arkansas for Medical Sciences.

Bob was a United States Army veteran of the Vietnam War. An avid duck-hunter and outdoorsman, Bob loved exploring the Colorado mountains on motorbikes and four-wheelers. His ashes will be buried in Colorado.

Bob is survived by his wife of 38 years, Elizabeth "Genny" West, and one daughter and son-in-law, Jennifer and Joseph Rozelle.

His body was cremated at the Cambridge City Crematorium and funeral services will be held at Our Lady of the Holy Souls Catholic Church in Little Rock on Monday, June 25, 2007, at 10 a.m. Visitation with the family will follow the service at the West family home.

In lieu of flowers, the family is requesting that memorials be made in Bob's name to Camp Aldersgate or Arkansas Children's Hospital.

Local arrangements are by Ruebel Funeral Home of Little Rock, www.ruebelfuneralhome.com.



Condolence Book
---
"Hi Jenny - I am so sorry to learn of Bob's passing. He was a friend and colleague for many years. May God bless you and your family during this time of sorrow and grief.

Bill & Anita "
Bill & Anita Allaben | Little Rock, AR | william.allaben@fda.hhs.gov
"Jenny, we are so sorry to hear about Bob. You and the family are in our prayers. Love to you all, Mildred, Billy, Paula & Steve Pendergrass"
Mildred Pendergrass and Family | Little Rock, AR | pallen3333@sbcglobal.net
Sign Condolence Book
---
Please fill out the form below to enter your name and a short message to the family into the online condolence book. Please type in regular sentence format; do not type in all capital letters; only type your condolence or comments in the "comments" field – your signature will be formatted from the "Name," "City & State," and "E-mail" fields. Please remember that you are leaving comments for a public guestbook and not sending personal email to family members. Do not type in email or letter format. Phone numbers and Addresses (other than email) will not be posted.
* denotes required fields.