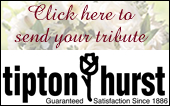 Read our Privacy Policy concerning online obituaries and release of information.
Sally Williams Crowder
---
Sally Williams Crowder, age 77, of Little Rock, was born in Okmulgee, Oklahoma, on October 19, 1930 and was raised in Oklahoma City. She died at home on January 13, 2008.

She attended Ward Belmont in Nashville, TN, her first year of college, then went on to the University of Oklahoma. A member of Pi Beta Phi sorority, she was voted the "Most Friendly Pledge" her first year at OU. Her friendly nature and upbeat attitude served her well throughout her life and resulted in a myriad of lasting friendships.

Known as a wonderful cook, Sally served as Manager of the Executive Dining Room for First Commercial Bank for several years before buying a restaurant in the Heights which she named Sally's. She was an active member of Pulaski Heights United Methodist Church, chairing many committees and even managing the church's kitchen for several months. Sally was a dedicated volunteer with the Twentieth Century Club and served as president for one year. She was fully devoted to her family and was loved by all who knew her.

Sally was preceded in death by her parents, Sterling and Ann (Hilloway) Williams, and a son, David. Survivors include her husband of 56 years, Joe Crowder; her children Jeff Crowder and his wife Beth of Conway, Ann Tarwater and her husband Rusty of Texarkana, Texas, Elizabeth Doshier and her husband Bob of Harrison. She was a beloved grandmother to her seven grandchildren Sarah Akridge, David J. Crowder, Drew Tarwater, Jackson Doshier, Annie Tarwater, Claire Doshier, Ella Crowder.

Memorial services will be held at 2:00 p.m. on Wednesday, January 16, 2008, at Pulaski Heights United Methodist Church, officiated by Rev. Dr. Jeffery Hampton, Rev. Clefton Vaughan, and Rev. Lynn Lindsey. A reception will follow in the church parlor.

Memorials may be made to the Pulaski Heights United Methodist Church Endowment Fund, 4823 Woodlawn, Little Rock, 72205.

Cremation arrangements are by Ruebel Funeral Home of Little Rock, www.ruebelfuneralhome.com.

Condolence Book
---
"Our love, thoughts and prayers are with you and your family, Joe. Sally was such a special, talented person and I feel privileged to have crossed her path. All the Haley/Riddick family sends our condolences. Joanne & Walter Riddick; John, Susan and David Haley & Walt Riddick"
Joanne & Walter Riddick | Little Rock, AR | riddick10@aol.com
"Elizabeth and Ann,I was so sorry to hear about your mother. I am thinking of you both knowing you are hurting.
Fondly, Tara"
Tara Fleshman | Little Rock , AR | tara.fleshman@sbcglobal.net
"Sally was always a joy and inpiration to me at PHUMC. She will be missed but her blessings will live on though the lives of those she touched.

Melissa Jackson, Charles, Pierce and Louis"
Melissa Jackson | Little Rock, AR |
Sign Condolence Book
---
Please fill out the form below to enter your name and a short message to the family into the online condolence book. Please type in regular sentence format; do not type in all capital letters; only type your condolence or comments in the "comments" field – your signature will be formatted from the "Name," "City & State," and "E-mail" fields. Please remember that you are leaving comments for a public guestbook and not sending personal email to family members. Do not type in email or letter format. Phone numbers and Addresses (other than email) will not be posted.
* denotes required fields.