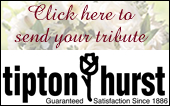 Read our Privacy Policy concerning online obituaries and release of information.
Jean Marie Kerns Kreps
---
Jean Marie Kerns Kreps, age 80, of Little Rock, died Wednesday, June 7, 2006.

She was born in Muskogee, Oklahoma on June 28, 1925 to the late Lynn Carol and Mildred Ford Kerns.

A graduate of Oklahoma State University, she was an Alumnus of Pi Beta Phi Sorority. She was also a past member of the Twentieth Century Club and was a member of the P.E.O. Sisterhood. She was also a member of Christ Episcopal Church where she served on the Altar Guild and was a member of the St. Agnes/Hilda Circle.

She was preceded in death by her husband, Charles W. Kreps, who died in 1994.

Survivors include her children, Lynn Kreps Dillard and husband Mike of Little Rock, Charles A. "Chad" Kreps of Little Rock, Lewis William Kreps of Dallas, Tex.; grandchildren, Kathy Dillard, Betsy Dillard, Charlie Kreps and wife Lauren, Mary Caroline Kreps, Ford Kreps, and Natalie Kreps.

A memorial service will be held at 2:00 p.m. on Friday, June 9, 2006 at Christ Episcopal Church officiated by the Reverend Larry Benfield. A reception will follow in the Church Gallery.

Memorials, in lieu of flowers, may be made to Christ Episcopal Church, 509 S. Scott St., Little Rock, AR 72201, or to the charity of donor's choice.

Cremation and service arrangements are by Ruebel Funeral Home, www.ruebelfuneralhome.com.
Condolence Book
---
"Dear Lynn, Chad, and Lewis,
I am so sorry to hear about your mom. I always think of her on her birthday since she shared it with my dad!
I will be working tomorrow and won't be able to come to the service, but will keep you all in my thoughts. We had lots of fun years being "driveway" neighbors!
Kaye Phillips"
Kaye Phillips | Little Rock, AR | kkp315@sbcglobal.net
"Our thoughts and prayers are with you, may God comfort you and give you peace."
Tom and Patty Patterson | Maumelle, AR |
"Our thoughts and prayers are with all of you."
Jim, Sue & Jason Roberts | Alexander, AR | Robertsbsr@sbcglobal.net
Sign Condolence Book
---
Please fill out the form below to enter your name and a short message to the family into the online condolence book. Please type in regular sentence format; do not type in all capital letters; only type your condolence or comments in the "comments" field – your signature will be formatted from the "Name," "City & State," and "E-mail" fields. Please remember that you are leaving comments for a public guestbook and not sending personal email to family members. Do not type in email or letter format. Phone numbers and Addresses (other than email) will not be posted.
* denotes required fields.